Fun Run 2019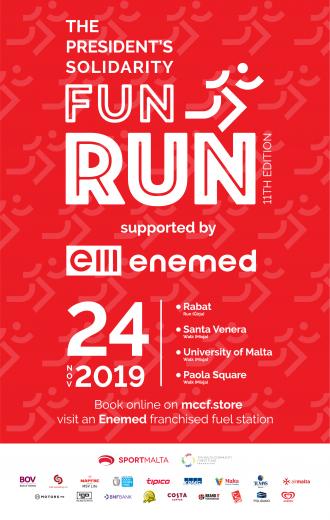 The President's Solidarity Fun Run 2019, which also happens to be the 11th edition, will be organised in aid of the Malta Community Chest Fund Foundation and will be held on Sunday 24th November at 10:00hrs.
Whilst the Run will depart from Rabat (Saqqajja Hill) and carry on for 11.3Km, the walks will commence at Paola (5.35Km), University of Malta (4.69Km) and St Venera (4.49Km).
Applications are now open, and those who'd like to join can do so by applying at Enemed franchised Fuel Stations, San Anton Palace, the MCCFF Offices, at The Palace in Valletta, or online here through www.mccf.store
A special commemorative T-shirt will be given to all those attending. Upon presentation of the BIB, all holders are eligible to free public transport after the Fun Run from Valletta to all locations across Malta from 07:00hrs – 14:00hrs.
Please print and present your ticket/s at selected Enemed Franchised Fuel Stations, selected Sports Malta Facilities, MCCFF Offices at The Palace in Valletta or at the Reception at San Anton Palace in Attard to collect your t-shirt and participation bib. All the outlets listed above, are also fully equipped to be a point of sale, whereby one can visit, apply, pay and be given a tee & bib there and then.
Enemed Franchised Fuel Stations
• Pit Stop Service Station, Mdina Road, Attard
• Wembley Service Station, F&A Magri, Airport Rd, Luqa
• Mike's Service Station, Main Street, Qormi
• Yellow Service Station, Great Siege Road, Floriana
• Falcon Service Station, Testaferrata Street,Ta' Xbiex
• VJ Grima Service Station, Nicola Road, Rabat
• Jeom Service Station, Regional Road, Msida
• Jeom Service Station, Fleur Lys Road, Santa Venera
• Cassar Fuel Station, Canon Road, Qormi
• Cassar Fuel Station, Tal-Barrani Road, Tarxien
• Cassar Fuel Station, Mosta Road, Lija
• Sterling Service Station, Testaferrata Street, Ta' Xbiex
• Gatt Service Station, New Street, Luqa
• Fuel Hub Service Station, Birkirkara Road, San Giljan
• Nick's Service Station, Mosta Road, San Pawl il-Bahar
• VC Service Station, Tal-Balal Road, Gharghur
• Francis Service Station, Zabbar Road, Fgura
• Industrial Motors Service Station, National Road, Blata il-Bajda
• Lourdes Service Station, Hompesch Road, Zabbar
• F.Busuttil Service Station, Tal-Barrani Road, Bir id-Deheb, Zejtun
• Grima Fuel Supplies Ltd, Dun Salv Portelli Road, San Lawrenz
• Michael Galea Service Station, Sir Harry Luke Road, Mgarr
• Automarket Service Station, Mdina Road, Zebbug

Sports Malta Facilities
• Cottonera Sports Complex
• Kirkop Spots Complex 
• Tal-Qroqq Sports Complex
• Ta' Kandia Shooting Range

Bookings
Participation Donation
€10
Terms & Conditions
1. Any male or female who is at least 18 years old on the day of the race is eligible to participate. Anyone wishing to participate who has not reached this age must apply through his legal guardian. The organisers will not accept any liability in case of failure to disclose the proper age or to abide by this and or any other condition of the eligibility rules.
2. The participant can only participate in the event if he/she has registered, and completed the necessary form, fully and truthfully. Anyone taking part in the run without completion of the relevant form will not be considered as a registered participant.
3. The participant agrees that he/she will not transfer his/her bib to another participant.
4. The participant will only participate in the event if he/she is in good health and does not suffer from any condition which would normally preclude a person from taking part in such an activity. Participants are expected to have trained sufficiently for the event and have established that they are physically fit.
5. The participant accepts that he is participating of his own free will, that he has noted and understood these eligibility rules, and that he understands that the organiser will not accept any responsibility for his state of health, and or for any incident arising from the fun run unless such incident is caused by the wilful misconduct of the organisers.
6. On signature of the application forms, eligible participants automatically waive any right for refund of the donation, in the case that the event has to be cancelled for any reason whatsoever.
7. On signature of the application form, eligible participants automatically accept that the Organiser has the right to publish pictures and image material etc., recorded during or around the time of the Event, in which the participant is visible.
8. The participant grants the Organiser the right to save and/or use personal data provided on the application form and grants the Organiser permission to use the personal data to send information to the participant and to provide personal data to third parties for the purpose of sending information to the participant as well as waives any rights relating to data protection in the context of his application and participation of the event.