Military Physical Training Programme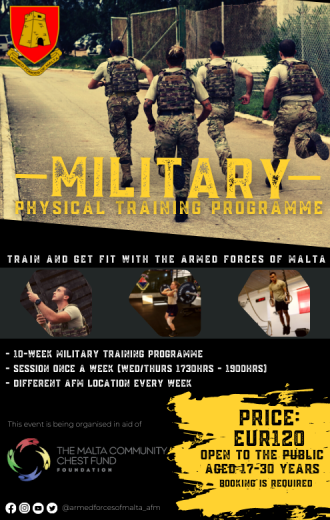 The Armed Forces of Malta is organising a 10-week Physical Training Programme open to anyone between the ages of 17 and 30 years, as a way of promoting a healthy/active lifestyle and also as an introductory fitness base for those interested in applying to join the Armed Forced of Malta.
A total of 10 sessions will be held on AFM premises once a week, led by AFM Physical Fitness Instructors. The first session will be held on 12th October and will include a generic Fitness Test and brief, after which the participants will be divided into two groups for the remainder of the sessions. A session will be held once a week (every Wednesday or Thursday) between 1730hrs and 1900hrs. The last session will be held on the 14th December, and will mark the end of the 10-week military physical training programme.
Number of participants is limited, and bookings will be open until the slots have been filled. This event is being organised in aid of The Malta Community Chest Fund Foundation.
Bookings
Military Physical Training (10 sessions)
€120
Terms & Conditions
Once your booking is confirmed, you will be receiving an Indemnity Form (Minors or Adults) and Medical Form to the email address provided whilst booking. These forms are to be filled in and signed accordingly. A scanned copy is to be sent as a reply to your email, and forms are to be brought with you to Luqa Barracks on the 12th October 2022, where the first session of the series of training sessions will be held.